Golfclub Oostburg - Golf course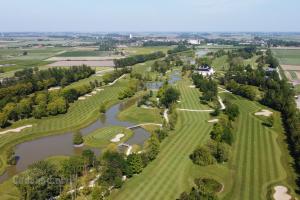 The Brugse Vaart features a well-designed 18-hole Championship Course with varied, challenging, and attractive holes.
The course has been designed and constructed as a park course, with the unique diversity of trees and shrubs playing an important role. The collection of pelicans also adds to the overall experience when playing the course.
The course measures a total of 6,402 meters and has a par of 73.
The numerous water hazards form an important level of difficulty that ensures the terrain continues to captivate every golfer over time.
It is common to play for about 4 hours over our 18 holes.
For information:
Brugse Vaart 10, Oostburg
tel. +31 117 453 410
web.
Website