History of Knokke-Heist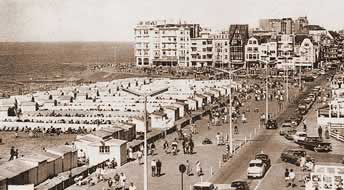 Coastal tourism, as we know it nowadays, began in the second half of the eighteenth century on the Flemish coast. When exactly the first tourists arrived in Knokke-Heist is not known. However, in 1839 the governor of the municipality of Heist required innkeepers to maintain a list of their guests.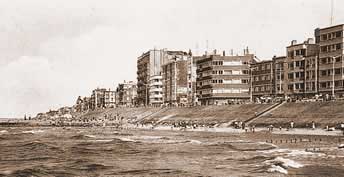 The next decade various infrastructure networks were created as a result of the growing amount of tourists during high season. The city council assigned work to pave several streets, place public water pumps, construct the first part of the concrete sea dyke, place street lights and benches on the dyke etc. Along with the first tourists also the first hotels appeared: Pavillon du Phare, the Kursaal and Hotel de la Plage.
Seaside resort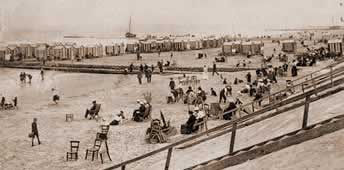 The municipality of Heist then started to promote the upcoming seaside resort. In 1877 Heist released advertising to the main stations for the first time, and also published advertisements in several newspapers and magazines. The tourist trap was the lighthouse of Knokke, that stood on the end of the Zeeweg road. In the vicinity of this lighthouse some early entrepreneurs of Knokke built the first primitive tourism establishments: Au Congo, Pavillon du Phare and Marguerite. Also a look-out area was created near the lighthouse, and the first bath carts arrived on the beach.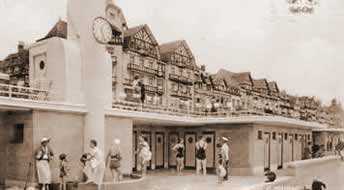 Also the people from Knokke began to see the profitability of the upcoming tourism industry, and the first hotels opened their doors: Hotel Prince Boudewijn and Grand Hotel. The first guests were artists who'd gathered around the painter Alfred Verwee.
In the early twentieth century the Royal Knocke Golf Club, the 'Zoute Tennis club' and the Knocke Football Club were established for the English tourists. Shortly after the First World War most of the foreign tourists came from England. The tourists did not only come for the healthy sea water, but also sunbathing.
After the Second World War reconstruction began that formed the basis for the resort today. Especially after 1955 the building boom flared up. Tourism increased in the following years significantly. Many old buildings have been converted into second homes, such as apartment villas. Knokke-Heist continued on to grow into a modern city, where it is now a pleasure to live, work and recreate.