Pierewiet Play Farm - Playground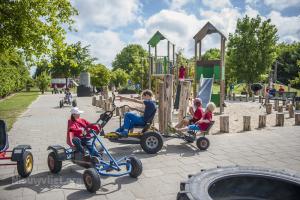 A garden full of adventures! The craziest things happen between the pear trees. Yes: play catch, if you want. But maybe you prefer to climb the lighthouse instead, so you can jump from it. Karting? That's possible too. Do you want to jump on a huge bouncy castle, blow giant bubbles, or go super fast on a zip line? No problem. You can also try out the new trampoline of course. The choice is yours!
Furthermore Pierewiet Play Farm is near the following sights: Swimming pool Resort Nieuwvliet-Bad (±2,2 km) & Playgrounds Resort Nieuwvliet (±2,2 km).
For information:
Mettenijedijk 16, Nieuwvliet
tel. +31 117 376 021
web.
Website