Marie Siska - Playground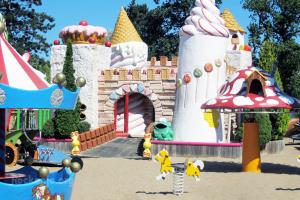 Be enchanted by the charming Playground Marie Siska in Knokke-Heist, a place where children can let their imagination run wild and parents can enjoy a relaxed atmosphere. The playground, located in the beautiful surroundings of Knokke-Heist, is a true paradise for children and a must-visit for families looking for fun and relaxation.
Marie Siska offers a range of play options for children of different ages. There is a fenced baby playground for the little ones (from 1 to 4 years), a large, safe and supervised playground for children from 4 to 14 years, and a bounce castle where children of the same age group can enjoy. If the weather isn't cooperating, there is also an indoor play area for children from 2 to 6 years. For a little extra adventure, there is a maze, and for the sporty ones, there is the Mini Golf Club with a "Journey Around the World" theme.
Admission
Playground admission is exclusive to customers of Marie Siska in the restaurant, the tea-room, or the hotel. Access to the playground is only possible if everyone eats from the restaurant menu.
Besides the playground facilities, Marie Siska is also known for its tearoom, where you can enjoy the famous heart-shaped Siska waffles that have even been praised by the Wall Street Journal. It's the perfect place to enjoy a delicious waffle while the children have fun in the playground.
Visit Marie Siska with your family or friends for a cozy and enjoyable day in Knokke-Heist!
Furthermore Marie Siska is near the following sights: Minigolf Knokke-Zoute (±900 m), Approachgolf Knokke-Zoute (±950 m), Royal Zoute Golf Club (±1,8 km), Cultuurcentrum Scharpoord (±2,8 km) & Casino Knokke (±3,0 km).
For information:
Zoutelaan 177, Knokke-Heist
web.
Website