Aqua Mundo - Swimming pool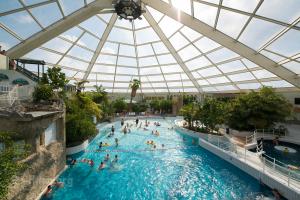 The subtropical swimming pool Aqua Mundo, located in the heart of Holiday Park De Haan. An ideal destination for a rainy day or a cosy and sporty day out. With a wide range of water attractions and facilities, Aqua Mundo offers an unforgettable experience for both young and old.
Your swimming adventure in Aqua Mundo can be as calm or as thrilling as you desire. Take a soothing dip in one of the pools, swim laps in the large pool, or let the children play and swim for hours in this water paradise. The interactive slides and playful water attractions ensure an unforgettable experience. For the little ones, there is the safe Kinder-Doe-Pool, and outside awaits a refreshing outdoor pool for a sunny dive. Feel the excitement in the wave pool, race through the wild water course, relax in the jacuzzis or challenge yourself on the fast slides.
Accessible to everyone
The swimming pool is accessible to everyone, not only to the guests of the holiday park. To ensure you have a spot, it is necessary to reserve online in advance.
Aqua Mundo in Holiday Park De Haan is more than just a swimming pool, it's a subtropical experience you don't want to miss. So grab your swim gear and get ready for a day full of water fun in Aqua Mundo!
For information:
Book tickets online
Wenduinesteenweg 150, De Haan
tel. +32 504 295 96
web.
More information