Laser Gaming Toversluis - Attraction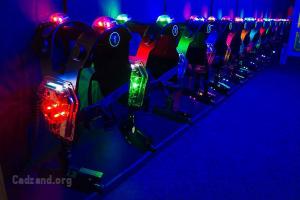 Dive into a world of action and adventure at Laser Gaming Toversluis in Sluis! This thrilling attraction is perfect for action enthusiasts and offers a unique laser gaming experience for participants aged 8 and over.
In a dimly-lit maze, participants hunt down their opponent with a laser gun in hand. Each successful shot scores points, but the secondary goal is, of course, to avoid being hit yourself.
Are you seeking a place where adrenaline flows and you can enjoy friendly competition? Then Laser Gaming Toversluis in Sluis is the place for you!
Although booking for the laser game is not mandatory, it is advised.
Toversluis
The laser game arena is just one of many attractions Toversluis has to offer. Alongside laser gaming, there are various other activities and dining options, making it an ideal destination for a fun and adventurous day out - especially on a rainy day.
Furthermore Laser Gaming Toversluis is near the following sights: Bowling Toversluis (±10 m) & Toversluis Family Fun Parc (±60 m).
For information:
Nieuwstraat 83a, Sluis
tel. +31 117 461 11
web.
Website