Bowling Toversluis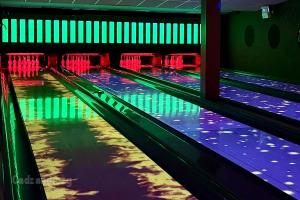 Experience an exhilarating and entertaining outing at the bowling centre Toversluis in the picturesque Sluis. A place where traditional bowling merges with modern technology and a vibrant atmosphere. Whether you want to hone your strike skills or simply have a fun time with friends and family, Toversluis has something for everyone.
The facility boasts eight interactive laser bowling lanes, where you can enjoy a game accompanied by blacklight, interactive animations, and swinging music. This modern twist on the traditional game ensures an exciting and unique bowling experience. And if you're seeking something more traditional, you can still enjoy a calmer game and focus on improving your bowling technique.
For the kids, there are special bumpers along the sides of the bowling lanes and 'dragon ball slides' to assist them in rolling the ball. This makes Toversluis a family-friendly destination where even the youngest bowlers have a chance to score a strike.
Booking is recommended, and can be made via the website or by phone.
Furthermore Bowling Toversluis is near the following sights: Laser Gaming Toversluis (±10 m) & Toversluis Family Fun Parc (±80 m).
For information:
Nieuwstraat 83a, Sluis
tel. +31 117 461 111
web.
Website