Playgrounds Resort Nieuwvliet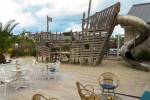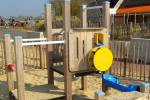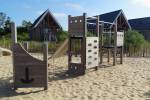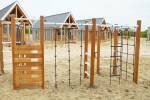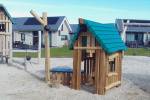 Have you discovered the outdoor and indoor playgrounds of Holiday Park Nieuwvliet yet? Here, hours of fun are guaranteed with activities such as climbing, sliding, running, and jumping. These play environments are perfectly tailored for children aged 2 to 10.
At the entrance of the main building, an impressive wooden play ship stands prominently in the sand. While parents relax with a snack or drink on the terrace, children can freely play in the outdoor area.
Additionally, throughout the holiday park, various individual play spots can be found. These areas are diversely designed to cater to a wide range of play needs. Whether your child is a wild one, calm one, builder, or observer, there's an adventurous corner for everyone. Each unique spot ensures the play offerings remain fresh and exciting, keeping children engaged and eager for more. Every corner of the park promises new adventures and discoveries.
Inside the main building, a fully-equipped indoor playground awaits. It's the ideal place for a rainy day. This area also includes seating for parents, allowing them to sit comfortably while the little ones play.
Even if you're not staying at Holiday Park Nieuwvliet, you're warmly invited to enjoy our play facilities!
Furthermore Playgrounds Resort Nieuwvliet is near the following sights: Swimming pool Resort Nieuwvliet-Bad (±50 m), Pierewiet Play Farm (±2,2 km) & Shortgolf Cadzand-Bad (±2,8 km).
For information:
Zeedijk 24, Nieuwvliet
web.
More information